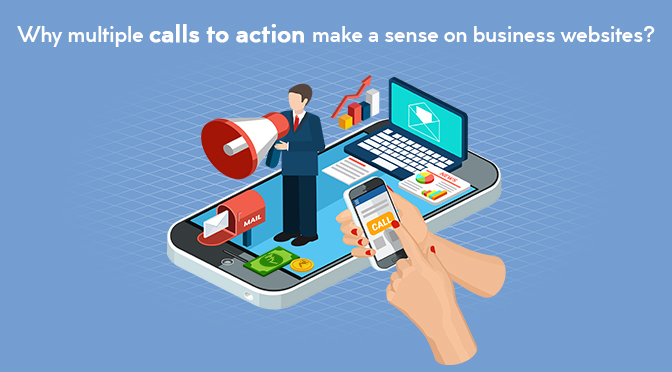 Why multiple calls to action make a sense on business websites?
You hardly get to see a website today with a CTA or Call to Action. In fact, most of them have multiple CTAs.
Marketing professionals swear-by CTAs. This is so, because they have data that prove that the sales and revenue of the business, to a great extent, is driven by the use of appropriate Call to Action. This means that there are definitive benefits of CTAs which you should be aware of.
What is CTA?
The Call to Action is a way to tell your audience, readers, viewers, prospective and existing clients, and in general traffic to your site to respond.
In digital marketing terminology, a conversion happens when the user uses the CTA. This is usually present on websites as a button and the user is asked to click on the button as a response. There are multiple CTAs that online brands and businesses use. Some of the common CTAs include 'subscribe now', 'add to cart', 'read more', 'chat now', 'buy now', 'free trial', and so on.
Most CTAs appear at the end of the page or blog; in the side or top panels, pop-ups, and so on. Typically the CTA is characterized by – where to place, how it is designed, and what is the textual matter.
This means that users should be able to spot the CTA on the page, and it should be saying exactly what you want the user to do and it should be persuasive enough to compel the user to click the button. The objective is to use numerous CTAs, on every possible page, and the CTA need to be placed strategically – especially, when it has now been proven that when users land on a site or page, they scan the content or the page in the F-shape.
Should a brand use multiple CTAs? Does it make for a good business sense?
The trick is to use single or multiple CTAs? The bottom line is that CTAs are very effective. As per a research by WordStream, emails that have single CTAs get about 37% more clicks – however, it was also reported that every page must have at least one CTA, and if possible more than one; so that there are augmented conversions and revenues.
Depending on the page type, the number of CTAs that should be used differs:
– For example on the landing page that is dedicated to conversion, you should use a single CTA; else, the visitor will get confused.
– A lead nurturing email on the other end, will surely have one main CTA for the primary action, followed by a secondary CTA that would ask for a follow-up.
– The objective is that you should use as many call to action as required to get the user moving and provide him with the desired benefits.
– A support page on the other hand, should be having more than one CTA because there would be multiple questions on the page and there needs to be the same number of CTAs to provide the visitor with the required answer.
Multiple Calls to actions make for perfect business sense on a brand website because:
CTAs result in lead generation
When you place the call to action button at the right place – it is said that when the placement is strategically – and the way it is presented is accurate, you can expect good volume of clicks. This is very good for your lead generation domain.
It helps in selling your product better.
Take for example, the Call to action 'free trial'. It is usually a CTA that motivates actions from most people. This is especially true in case of specialized products like SAAS products. A free trial on such a site is a viable way to encourage users to sign-up for the free trial and then the brand can work gradually converts them into confirmed sales.
You get details about the interested clients
When you request your visitors to fill up the form, and they do so, it means that visitors on your site are willing to share the personal data with you. What does it mean? It indicates that these visitors are consciously submitting their data so that your sales team can touch base with them.
You can get wider reach when you use the CTAs appropriately
Many brands use the call to action button to tell visitors to share the information on the page on social media accounts. Now, if a particular visitor does go ahead and share, it can mean two things – one, that the visitor is influenced by what he has read or seen on the page; and second, by sharing he is helping your brand message to reach out to a wider section of the audience.
Raise awareness about an event
If your business is organizing an event – promotional or social – you can viably use the CTA button to not only raise awareness about the program but also get the interested prospects to click on the CTA and register themselves for the event.
Your CTA is a direct communication to your visitors to buy your product
This form of CTA is very sales-focused. It asks the visitors or the potential clients to buy your product and engage in a commercial transaction. This is one of the direct communications that a brand can have with its prospective customer.
CTAs that help visitors discover more about your products or services
This form of CTA is intended to tell the audience more about your product or service offerings, and if someone clicks on the button, it means that he/she wants to know more about the products.
Conclusion
There are various ways that brands and businesses online can work on their CTA buttons and improve the look. You can work on the text matter, the placement of the CTA, use distinct colors to grab attention, design the CTA creatively so that your visitor can respond accordingly. Remember, it is CTA that helps in boosting the performance of your sales funnel. Depending on the page type, use single or multiple CTAs to get best results!